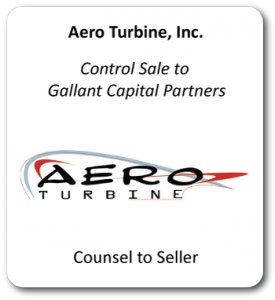 LOS ANGELES—Jeffer Mangels Butler & Mitchell LLP (JMBM) is pleased to announce that Aero Turbine, Inc., a leading aerospace maintenance, repair and overhaul service provider supporting the U.S. military and commercial enterprises, has completed a control sale to Gallant Capital Partners.
Partner Michael Steuch led the JMBM deal team and was assisted by David Ma and Ryan Nowicki.
"We enjoyed working with Aero Turbine principals Doug Clayton and David Mattson, who have built a great platform and will continue to lead the company," said Mr. Steuch. "The partnership with Gallant will allow Aero Turbine to pursue additional engine and aircraft component opportunities."
Mr. Clayton added, "Mike and the JMBM team did a great job of preparing us for the challenging legal aspects of the transaction, and in helping us to negotiate a good outcome on the transaction documents. JMBM's assistance was invaluable in getting the deal done."
About Aero Turbine, Inc.
Founded in 1978, Aero Turbine has been dedicated to developing and providing the highest level of turbine engine and accessory overhaul, repair and testing capabilities since serving its first customer, the U.S. Air Force. Since then the U.S. Navy and Army have been added to its client roster, along with the military forces of more than 20 nations around the globe, and a host of commercial clients. Aero Turbine continues to expand the range of turbine engines it services, with an emphasis on vintage and legacy powerplants. The company has been honored by the U.S. Federal Government with a Contractor of the Year Award for its work with the U.S. Air Force. For more information, see www.aeroturbine.aero.
About JMBM's Mergers & Acquisitions Group
JMBM's corporate and tax lawyers represent companies and capital providers in a wide variety of acquisitions, financings and sales. The Group's lawyers provide start-to-finish assistance with the structuring, negotiation, documentation and closing of the deal, using the firm's full resources for everything from sensitive IP/environmental/labor issues to tax-efficient deal structures. For more information, see www.jmbm.com.