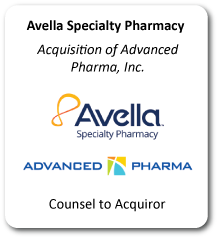 JMBM is pleased to announce its representation of Avella Specialty Pharmacy in its acquisition of Houston-based Advanced Pharma, Inc., a leading provider of compounded sterile preparations to hospitals and health systems nationwide.
"Avella immediately recognized the potential of this company in terms of its visionary leadership team and its dedication to providing the highest-quality products to its hospital partners," said Avella CEO Rebecca M. Shanahan. "Like Avella, Advanced Pharma is always striving to provide greater value to clients and the industry at large. The integration of Advanced Pharma's people, processes and products into our own organization is a natural evolution for Avella's growth and will position us as the premier national provider of specialty drugs and compounded therapies."
JMBM partner Michael Steuch led the legal team that represented Avella, and was assisted by partner Ken Bovard.
About Avella Specialty Pharmacy
Headquartered in Phoenix, Arizona, Avella Specialty Pharmacy is a National Accredited Specialty Pharmacy, providing individualized care and support to patients since 1996. Avella's clinical pharmacists and staff members are experts in managing complex disease states and providing compassionate care. The company offers a nationwide distribution service to complement its retail locations.
About Advanced Pharma, Inc.
Advanced Pharma is a leading provider of sterile compounded preparations used in the acute care setting. This Texas-based compounding facility is dedicated to maintaining the highest levels of quality in all of its preparations. It is an FDA-registered 503B Outsourcing Facility, meeting FDA guidelines for sterility and safety including the maintenance of current Good Manufacturing Practices (cGMPs) within the company's facilities.
About JMBM's Corporate Transactional Group
JMBM's M&A Group represents private and public companies, as well as investment funds and other capital sources, in a wide variety of transactional matters including mergers, acquisitions, sales and financings. Our lawyers provide start-to-finish assistance with the structuring, negotiation, documentation and closing of the deal, using the firm's full resources for everything from complex intellectual property issues to tax-efficient deal structures.