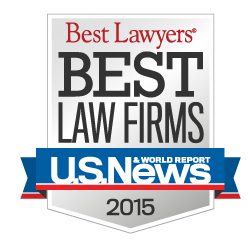 LOS ANGELES and SAN FRANCISCO – Jeffer Mangels Butler & Mitchell LLP (JMBM) has been named a 2015 "Best Law Firm" by U.S. News & World/Best Lawyers®, which recognizes the top law firms in the country for professional excellence. This is the fourth consecutive Best Law Firm inclusion for JMBM.
In Los Angeles, the firm ranked in the first tier in the area of Land Use and Zoning Law.
In San Francisco the firm ranked in the first tier in three areas:
Bankruptcy and Creditor Debtor Rights / Insolvency and Reorganization Law
Commercial Litigation
Litigation – Bankruptcy
In August, 12 JMBM partners from the firm's offices in Los Angeles, San Francisco and Orange County, received recognition as 2015 "Best Lawyers®."
About JMBM's Land Use and Zoning Practice
JMBM's Land Use lawyers have particular strength in handling all permitting and compliance issues for businesses seeking to locate and develop new sites, relocate or expand operations. Projects that we have helped move through the approval process include residential developments and apartment complexes, hotels, shopping centers, theaters, office buildings, and a wide range of industrial projects such as mines, energy plants and manufacturing facilities. Contact Benjamin M. Reznik, BMR@jmbm.com or 310.201.3572.
About JMBM's Bankruptcy Department
JMBM's Bankruptcy Department is distinguished by its attorneys' broad-based experience in bankruptcy and insolvency law and enjoys a national reputation for its expertise. Our bankruptcy attorneys are well known to the courts, counsel and experts. Businesses, investors and lenders rely on us for practical results and solutions to bankruptcy and insolvency problems. Contact Robert B. Kaplan, RKaplan@jmbm.com or 415.984.9673.
About JMBM's Litigation Department
The lawyers in JMBM's Litigation Department represent many small businesses and entrepreneurs as well as Fortune 1000 companies as both defendants and plaintiffs in a wide range of litigation. Because we are aggressive advocates in court, our effectiveness at trial practice often paves the way for opponents to seek settlement – which we pursue and structure to our clients' best advantage. Contact Robert Mangels, RMangels@jmbm.com or 310.201.3533.
About Best Law Firms
The Best Law Firms designation is based on a rigorous process that includes client and lawyer evaluations, and peer review from leading lawyers. Lawyers are not required or allowed to pay a fee to be ranked for inclusion. Firms are evaluated on expertise, responsiveness, understanding clients' businesses and needs, cost-effectiveness, integrity and a number of other factors.
U.S. News & World Report is a registered trademark of U.S. News & World Report, L.P. Best Lawyers is a registered trademark of Woodward/White, Inc.