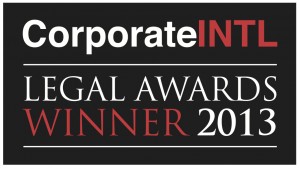 SAN FRANCISCO – Jeffer Mangels Butler & Mitchell LLP (JMBM) has been awarded the Corporate INTL's 2013 Legal Award for "Bankruptcy Law Firm of the Year in California."
Corporate INTL's annual awards mark excellence for the world's leading advisers and financiers in an array of countries and continents globally. The awards commemorate those who have been active over the past 12 months and who have shown excellence not only in expertise but in service and during a difficult global economic downturn. Researched by its own independent team, the shortlisted firms were then reviewed by an independent awards panel which consisted of
Senior Partner of a Global Law Firm
Senior Partner of an International Accountancy Practice
President of a Global Legal Network
Chief Executive of a Multi-International Business
In-House lawyer for a large regional business
Managing Editor of Corporate International Magazine
About JMBM's Bankruptcy Group
The JMBM Bankruptcy Group is distinguished by its broad-based experience in bankruptcy and insolvency law. Our clients include financially troubled businesses, secured and unsecured creditors, financial institutions, special servicers, lessors and lessees, trustees and creditors' committees on a variety of prebankruptcy workouts and complex bankruptcy reorganizations and liquidations. The JMBM Bankruptcy Group regularly handles out-of-court debt and equity restructuring, complex workouts, assignments for the benefit of creditors, receiverships and foreclosures representing debtors, creditors, committees, assignees, receivers and investors.
About Corporate INTL Magazine
Since 2005 Corporate INTL has been firmly established as one of the leading monthly titles for business leaders, professional advisers and providers of finance throughout the world.