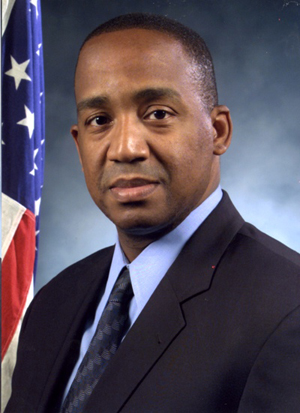 On Thursday, July 26, 2012, the United States Attorney for the Central District of California, Andre Birotte Jr., visited Jeffer Mangles Butler & Mitchell LLP. Birotte spoke to firm lawyers and several guests, including Los Angeles Police Chief Charlie Beck, Long Beach Police Chief Jim McDonnell, and numerous members from the community.
Mr. Birotte, an outstanding and energetic speaker, outlined the priorities for the Central District which include financial fraud prosecutions, civil rights actions, and consumer protection, among others. Increasingly, the U.S. Attorney's Office works closely with federal agencies like the FBI, IRS and DEA, and also with local law enforcement agencies in the prosecution of violent crime, financial fraud and child exploitation.
The lunch presentation addressed Mr. Birotte's priorities for the U.S. Attorney's Office and on-going community programs to enhance public safety in the Central District of California, which encompasses approximately 19 million people.
About JMBM
Jeffer Mangels Butler & Mitchell LLP is a full-service law firm committed to providing clients with outstanding results. From our offices in San Francisco, Los Angeles and Orange County, we serve our clients' needs worldwide. For more information visit www.jmbm.com.
About the United States Attorney's Office
The United States Attorney's Office for the Central District of California. serves a district of seven counties, Los Angeles, Orange, Riverside, San Bernardino, San Luis Obispo, Santa Barbara, and Ventura, with a population that is the largest of any district in the country. We seek to understand and serve the needs of these residents, and the many diverse communities in which they live. The lawyers in our Office enforce the laws and defend the interests of the United States. All three of our Office's divisions, Criminal, Civil, and Tax, look forward to continued service in the best interests of the District.